Pre-Determinations – Jeffersonville, IN
Learn More About Pre-Determinations
The world of dental insurance benefits is full of somewhat confusing terms. Deductibles, maximums, in-network providers, and many other words are used to explain the details your bottom line cost. In the end, it can be difficult to predict how much you'll need to pay for your treatment! At Limestone Dentistry, we aim to put your mind at ease with a dental insurance pre-determination. Read on to learn more about pre-determinations and how we strive to ensure your benefits are being maximized.
What Is a Pre-Determination?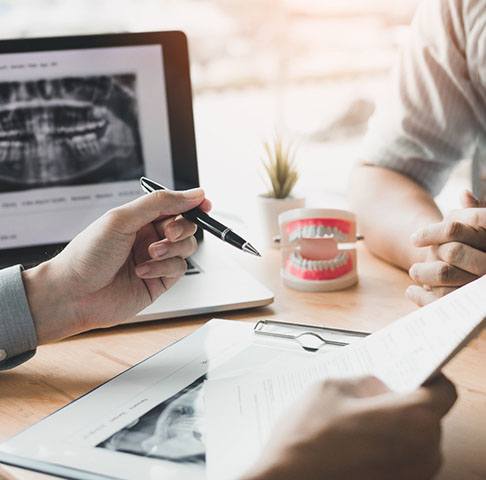 A pre-determination is different from an explanation of benefits. An explanation of benefits simply provides which treatments receive what percentage of coverage. Meanwhile, a pre-determination outlines an estimated dollar amount when it comes to a specific treatment plan. This way, you'll have a much more accurate idea of how much you can expect your dental insurance to pay and how much you should budget for.
Another word for a pre-determination is a pre-approval, simply because we are gaining approval from your insurance company that they will cover some, none, or all of the cost.
How the Pre-Determination Process Works
When it comes to acquiring a pre-determination, our team will do all the heavy lifting for you. Here's generally what you can expect:
Step 1: The process starts when we create a treatment plan for you, whether that's to get a dental crown, a deep cleaning, or any other service. We will likely recommend getting a pre-determination, but the decision to opt for one will ultimately be up to you.
Step 2: Our team will fill out all the appropriate paperwork and send it to your insurance company on your behalf.
Step 3: The insurance company will carefully review the details of your treatment plan and put together your pre-determination estimate.
Step 4: A copy of the pre-determination will be sent to you and to our office. It will break down the initial cost of the treatment, the amount applied to your deductible, the percentage of coverage you'll receive, and how much you and your insurance can each expect to pay.
Step 5: When we receive the pre-determination back from your insurance company, we will typically follow up with a phone call within one week. This will give you the option to move forward with peace of mind.