Dental Implants — Jeffersonville, IN
Replace Missing Teeth with the Next Best Thing
According to the American College of Prosthodontists, about 178 million Americans are missing at least one tooth, and about 40 million are missing all their natural teeth. If this sounds familiar, then you already know that tooth loss can make tasks like eating comfortably, speaking clearly, and smiling confidently far more challenging than they once were. Fortunately, at Limestone Dentistry, we can replace missing teeth with the next best thing with the help of dental implants in Jeffersonville! This state-of-the-art tooth loss solution is the strongest, most lifelike, and longest-lasting option available, and the entire procedure can be completed right here in our office. Read on to learn more and give us a call today to schedule your consultation!
Why Choose Limestone Dentistry For Dental Implants?
#1 Replace Any Number of Missing Teeth for Life
#2 Start-to-Finish Dental Implant Treatment Right Here In-Office
#3 High-Quality Material for Durable and Seamlessly Lifelike Results
What Are Dental Implants?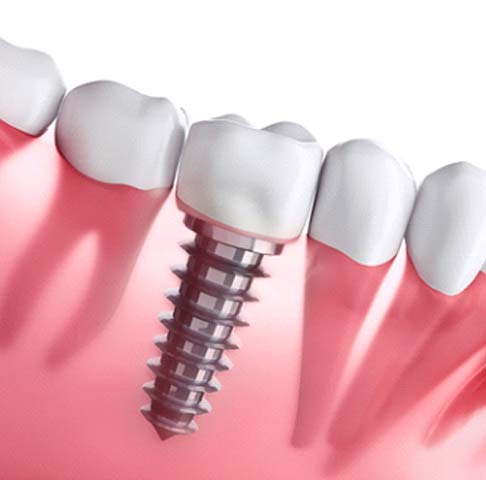 Your natural teeth consist of two main parts: the visible crown and the roots underneath that keep it anchored in place. Traditional tooth replacement options like dentures and dental bridges only replace the crowns of missing teeth, leaving much to be desired in terms of stability and function. Dental implants are designed to replace the entire structure of a missing tooth for results that are as close to natural as possible.
Dental implants are small titanium posts that are placed below the gumline to replace the roots of missing teeth. Titanium is biocompatible, which allows dental implants to fuse with the jawbone and become part of it. One or more dental implant can support a crown, bridge, or denture to replace any number of missing teeth. The end result is a smile that looks, feels, and functions as if it were completely natural.
Benefits of Dental Implants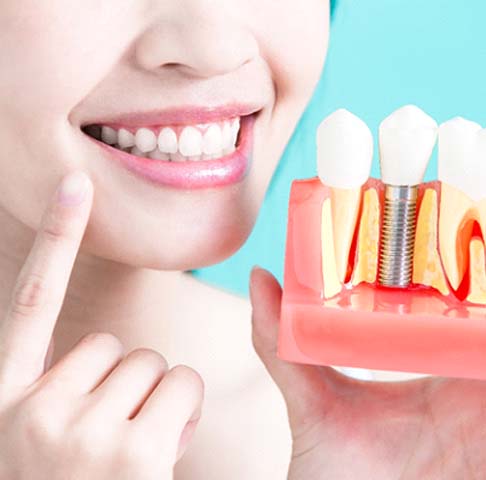 Dental implants are quickly becoming one of the most popular ways to replace missing teeth, and it's easy to see why. When compared to traditional options, this state-of-the-art tooth replacement offers a bevy of unique benefits to your confidence, health, and quality of life. When you visit us for your consultation, we'll be happy to help you learn more about how dental implants can improve your life, but in the meantime, keep reading to learn a few of the most popular reasons why our patients love dental implants.
Day-to-Day Benefits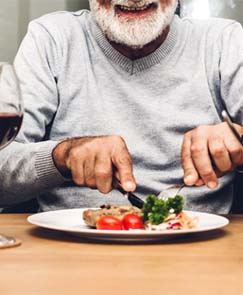 Eat your favorite foods: Dental implants can help you regain 80% or more of your natural chewing power, allowing you to eat steak, apples, nuts, and all your favorite foods easily and comfortably.
Easy care and maintenance: You can keep your newly rebuilt smile strong and sparkling with regular brushing, flossing, and biannual dental checkups.
Smile with confidence: Since dental implants are anchored firmly into your jawbone, you'll never have to worry about them slipping, shifting, or popping out of place while you talk or laugh.
Health Benefits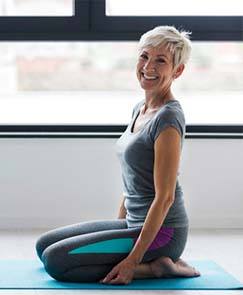 Preserve your jawbone: Dental implants are the only tooth replacement option that continues to stimulate the jawbone after tooth loss, which keeps it from shrinking away.
Keep your remaining teeth: When the jawbone is kept strong with dental implants, so is the foundation around your remaining natural teeth.
Enjoy healthier teeth and gums: Since dental implants don't require filing down remaining teeth, nor do they exert pressure on the gums, you can enjoy a healthier, more comfortable smile.
Long-Term Benefits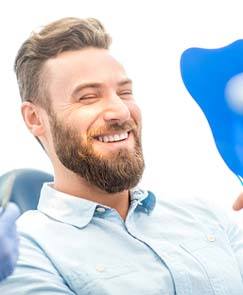 A dependable success rate: Dental implants boast a success rate of over 95%, even 10 years after their placement.
Long-lasting results: With the proper care, most patients can expect to enjoy their dental implants for 30 years to a lifetime.
Save money in the long run: While dentures and dental bridges need to be replaced every five to seven years, dental implants can last decades. So even though they have a higher upfront cost, dental implants often become the most cost-effective tooth replacement options in the long run.
Who Dental Implants Can Help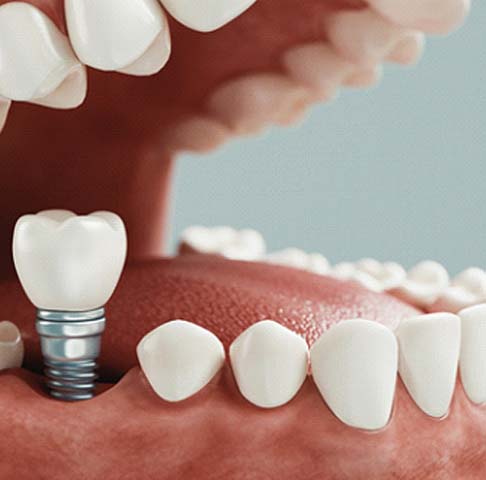 Not only are dental implants the premier tooth replacement option, but they are also one of the most versatile as well. No matter how many teeth you're missing, we can design a custom treatment plan to help you regain the complete, confident smile you deserve!
Missing 1 Tooth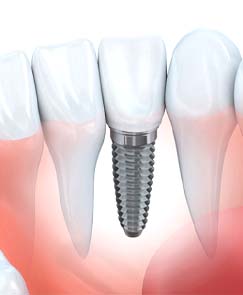 For a single missing tooth, we will place one dental implant into the jawbone where the root structure once was. Then, once it's healed, we'll cover it with a beautiful custom-made dental crown. Unlike a traditional dental bridge that requires altering the neighboring teeth, a single tooth dental implant is completely self-supporting.
Missing Multiple Teeth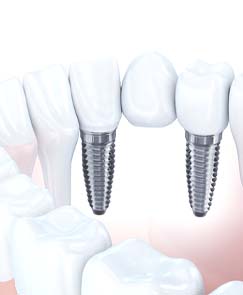 When there are several missing teeth in a row, we can seamlessly fill the space with an implant bridge. This prosthetic looks just like a traditional dental bridge, but instead of relying on the teeth on either side of the gap, an implant bridge is supported by two dental implants.
Missing All Teeth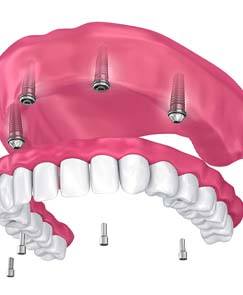 If you are missing all your teeth, a traditional removable denture is no longer your only option. With just four to eight dental implants, we can securely anchor a full denture into place for optimal stability and comfort. You'll be able to eat all your favorite foods with ease and smile confidently knowing your implant dentures will never slip or pop out of place.
5 Step Dental Implant Process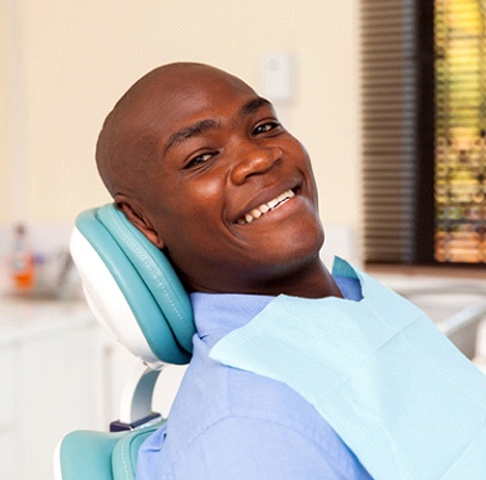 Out of the many dental services available in dentistry today one of the most complex is implants but at Limestone Dentistry we make it as simple as possible. While every patient's journey towards a new smile will look slightly different, there are five main steps you can expect to take: consultation, surgery, osseointegration, impressions and final restoration.
Initial Dental Implant Consultation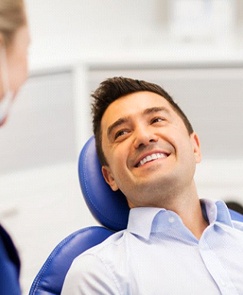 First, you'll visit your Jeffersonville implant dentist Dr. Eric Thornton for a consultation, which involves much more than just talking. It starts with a discussion about your goals and a thorough examination of your smile as it currently is. At this office visit Dr. Thornton will discuss the process of having a tooth extracted, if needed, and may elect to take a CBCT scan in officein order to help further plan your implant placement.
Dental Implant Surgery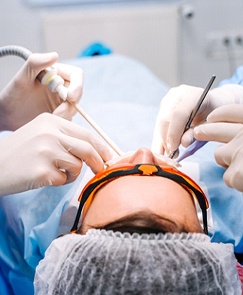 At your next office visit, you'll have your dental implant or implants placed via a minor surgical procedure. We will use local anesthetic to numb the area then make a small incision in the gums to access the jawbone. Dr. Thornton places the implant post in the jawbone and sutures the gums closed. From start to finish, we'll make sure you are completely comfortable. If the surgical aspect is your biggest concern, we also have nitrous oxide gas to aid in relaxation.
Implant Osseointegration & Healing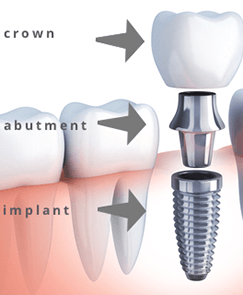 After the surgical placement, you'll spend the next three to six months healing as the dental implant fuses with the bone tissue. This process is called osseointegration and is how implants gain their incredible stability and strength. During this time, the patient typically does not have limitations that will affect their daily life.
Lab Impressions
After your three to six month healing process, Dr. Thornton will clear you for laboratory impressions! In a short fifty minute appointment, Dr. Thornton will take impressions to be sent to our local Indiana laboratory where they will make your final dental abutment and crown.
Delivery of Dental Implant Restoration(s)
In your last dental implant appointment, we will have your final abutment, crown and/or denture back from our local Indiana Laboratory. This short appointment involves Dr. Thornton cementing and/or making minor adjustments to ensure your dental implant lasts for several years to come. Although this five step process may seem overwhelming, we are here to guide you through step by step!
Understanding the Cost of Dental Implants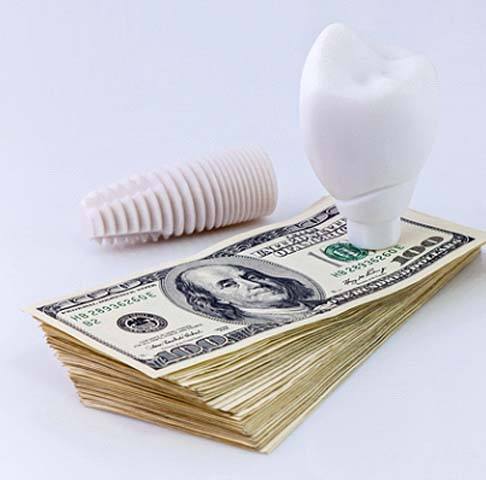 Just as no two smiles are alike, no two dental implant treatment plans will cost the same. Numerous factors will go into the final cost, including if you need preliminary procedures, how many dental implants you need, and your insurance coverage. It's no secret that dental implants have a higher up-front cost than other tooth replacement options. However, they are typically the more cost-effective option in the long run! Dental implants have the potential to last a lifetime, which can save you thousands of dollars in replacements alone. Plus, many patients agree that the confidence and quality of life dental implants can help you achieve are invaluable.
Preliminary Treatments & Dental Implant Surgery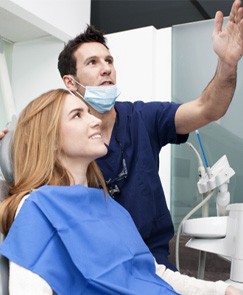 Not everyone is a good candidate for dental implants initially. It's essential that you're in good oral health and have adequate jawbone density in order to maximize your chances of a successful treatment. In some cases, this may require preliminary treatments like gum disease treatment or a bone graft. The cost of these procedures will naturally add to the final cost of your dental implants, but they often receive dental insurance coverage.
Next we'll need to consider the cost of the dental implant placement surgery itself, which will incur a cost of its own. This price will depend on factors like where in the mouth your implants are being placed, how many dental implants you're receiving, and the type of sedation you'll be using. Since we perform this step of the treatment right here in-office, you won't need to spend extra time, money, and hassle visiting an outside specialist.
The Parts of Your Dental Implant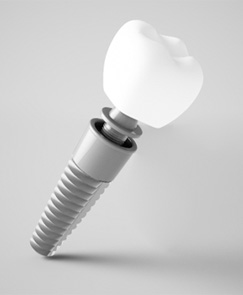 Finally, we'll calculate your estimate while taking into account a variety of different factors about the dental implant or implants themselves, such as:
Number of dental implants : Naturally, the more dental implants you need, the higher the cost will be. Fortunately, with restorations like bridges and implant dentures, you won't necessarily need one dental implant for every tooth you're missing.
Type of restoration : Crowns, bridges, and dentures all come at their own price points. While crowns are typically the least expensive of the three, it is often more cost-effective to replace a larger number of missing teeth with a bridge or denture instead of individual crowns.
Size or material : Dental implants can be made larger, smaller, longer, shorter, and out of different materials based on the unique needs of the patient.
Brand of dental implant : Just like with cell phones and cars, different companies make different brands of dental implants. We only use dental implants from well-known brands with a history of high-quality products to ensure our patients get the best results.
How Dental Implants Can Save You Money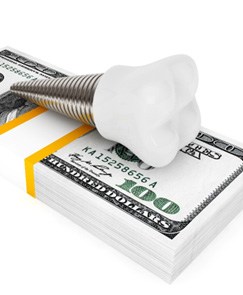 When comparing the upfront cost of replacing missing teeth with dental implants to that of dental bridges or dentures, it's clear that the traditional non-implant options are less expensive. However, studies show that this is only in the short term.
Dental bridges and dentures naturally lose their fit over time and need to be replaced. On the other hand, dental implants typically last 30 years to a lifetime with the right care, saving you thousands of dollars in replacements alone! Not to mention that dental implants lower the overall cost of your oral healthcare and restore your confidence, which is priceless.
Does My Dental Insurance Cover Dental Implants?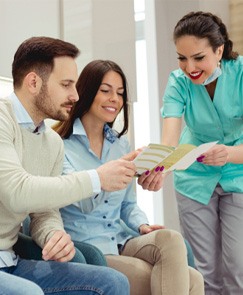 Many dental insurance plans currently do provide coverage for dental implants. Do to the overwhelming growth in popularity of implants and their reputation as the best long-term solution, more and more dental plans now offer benefits. Plus, dental insurance plans usually cover parts of dental implant treatment, such as a portion of the sedation used or the final restoration.
Our knowledgeable team will be happy to review your dental insurance benefits to ensure your out-of-pocket costs are minimized. We are an insurance-friendly practice and accept plans from Delta Dental, Cigna, Humana, Anthem, MetLife, Teamcare, and many more!
Dental Implant FAQs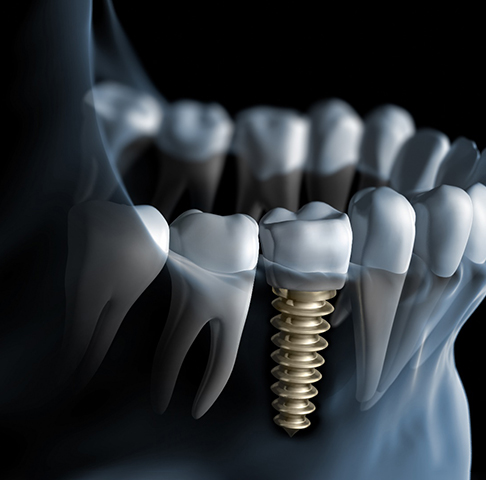 Are you ready to replace your missing teeth with the next best thing? It's natural to have some questions that need answers before you're ready to commit to a treatment like dental implants. At Limestone Dentistry, we want you to have all the information you need to make a confident, well-informed decision about your oral health. That's why we've collected some of the most common questions we get about dental implants below along with their answers. If you still have questions or are ready to schedule your consultation, give us a call today!
Do I Really Need to Replace a Missing Tooth?
One missing tooth may not seem like a huge problem, especially if you can't see the gap in your smile. However, when even one tooth isn't replaced, the entire smile suffers. Surrounding teeth will shift to fill the new gap in the smile. This leads to uneven bite alignment and a crooked overall appearance. The uneven bite also places excess pressure on surrounding teeth, putting these teeth at increased risk for chips and cracks. Finally, without the tooth root to provide stimulus, the body starts to reroute the nutrients that maintain the gum tissue volume and jawbone density in the tissue around the missing tooth. Over time, this can lead to additional tooth loss and a sunken, aged appearance in the facial features.
That's why we recommend dental implants whether you've lost just one tooth or a whole row of teeth. This revolutionary treatment can prevent nearly all the negative effects of tooth loss and keep your smile in tip-top shape. If you have more questions about missing teeth and how to best replace them, we'll be happy to go over all your options during a consultation.
How Painful Is Getting a Dental Implant?
Anyone may feel hesitant about getting dental surgery. However, you'll be pleased to hear that getting dental implants is an incredibly comfortable and straightforward procedure! We're proud to perform every step of dental implant treatment right here in our office, including the surgical placement of implants. Our experienced team will take every measure to ensure that you are comfortable during the process, typically with powerful numbing gel and calming sedation dentistry. It's normal to experience some tenderness, swelling, and bruising for a little while after your surgery as you heal, but these symptoms should be easy to address at home.
What Is the Best Age to Get Dental Implants?
Tooth loss isn't a problem just for older patients! You could find yourself missing one, several, or all of your permanent teeth at any age due to accidents, genetics, or certain medical conditions. Fortunately, there are very few age restrictions for dental implants. As long as you are in good overall and oral health, you will likely be considered a good candidate no matter what age you are. That being said, we do not recommend dental implants for teenagers, as their jaws are still developing and are not ready to support dental implants.
How Much Do Dental Implants Cost?
Dental implants are a highly customized treatment, so there is no set price for them. The final price will depend on factors like how many dental implants you need, the type of restoration they will support, and what type of material they're crafted out of. We'll also need to factor in the cost of any necessary preliminary procedures like bone grafting or gum disease treatment, as well as the price of the sedation used to keep you comfortable during your dental implant placement appointment. When you visit us for a consultation, we'll go over all these variables and more. Not only will we ensure that you get exactly the type of treatment you need, but you'll have a personalized estimate for how much your new smile may cost. We'll even help you explore all the ways to lower your out-of-pocket expenses with options like dental insurance coverage.