Periodontal Disease Treatment – Jeffersonville, IN
Gentle Relief for Sensitive, Bleeding Gums
When it comes to your oral health, taking care of your gums is actually equally as important as caring for your teeth. Why? Poor oral hygiene contributes to not only tooth decay, but also a gum infection called periodontal disease. Also known as gum disease, periodontal disease can lead to swelling, bleeding, tenderness, and gum recession. Eventually, it can result in tooth loss! If you or someone you know is experiencing discomfort in your gums, reach out to our Limestone Dentistry team right away. The sooner Dr. Eric Thornton can restore your oral health with periodontal disease treatment in Jeffersonville, IN, the better!
Why Choose Limestone Dentistry for Periodontal Disease Treatment?
Insurance-Friendly Dental Office
Soothing Nitrous Oxide Sedation Available
Compassionate, Skilled Dentist & Dental Hygienist
Scaling & Root Planing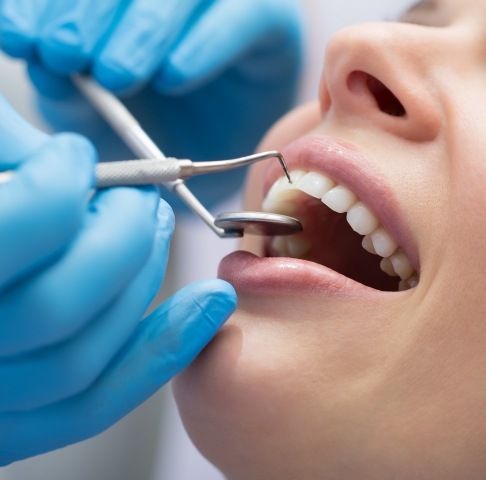 Gum disease usually develops when bacteria-filled plaque and tartar build up on the teeth under the gumline, causing the nearby tissue to become irritated and inflamed. Luckily, we can target the infection with a non-surgical procedure called scaling and root planing. Scaling involves using specialized tools to eliminate plaque and tartar. Then comes root planing, in which we smooth out the surfaces of the roots of your teeth. Not only does this encourage a quick recovery, but it also discourages plaque from accumulating in the area, decreasing your risk of reinfection.